AZ-5 Solar Plane
The latest project under KNA MelAvio is the AZ-5 solar plane, with Rafal Ożóg, M.Sc. leading the project.
M9 Arowana
A mothership design for an unmanned system to enable audio-video transmission in a location with inaccessible telephone coverage. The main goal was to achieve long range with electric propulsion to meet the MR 2020 mission.
M8 Marlin
A new generation of unmanned vertical takeoff and landing aircraft.Compared to the Murena platform, it is powered by an internal combustion engine, so it has a longer flight range. In addition, the aircraft is equipped with a precision landing system. Project carried out for the 2018 UAV Challenge.
A2 Raczek
A popular configuration among small drones – a four-rotor helicopter that can take a camera or camcorder on board, for example, practical in tight spaces, precisely controlled by on-board systems.
Rekin
An unmanned aircraft with a two-meter wingspan and electric propulsion, equipped with a vision head. In a modified version, produced in two copies for a project carried out by Warsaw University of Technology together with Lockheed Martin Co.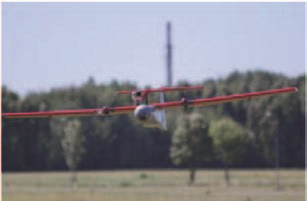 Quad Tiltrotor
An aircraft in the Quad-Tiltrotor configuration is a combination of an airplane and a classic helicopter. As a rule, a machine of this type has one engine at the tips of each lobe, rotating around an axis determined by the wing spar. This allows a smooth transition from vertical to progressive flight while maintaining good flight characteristics. QTRs can also perform hovering. The machine is difficult to build and design, mainly because of the numerous control algorithms required to maintain stability in vertical flight under varying loads and external conditions.